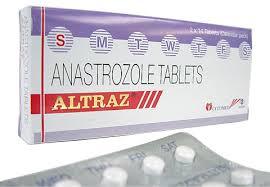 Anastrozole (INN) (marketed under the trade name Arimidex by AstraZeneca) is a non-steroidal

[

3

]

aromatase-inhibiting drugapproved for treatment of breast cancer after surgery, as well as for metastasis in both pre and post-menopausal women. The severity of breast cancer can be increased by estrogen, as sex hormones cause hyperplasia, and differentiation at estrogen receptorsites.

[

4

]

Anastrozole works by inhibiting the synthesis of estrogen.