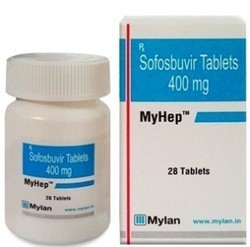 Myhep Sofosbuvir: Drug name : Sofosbuvir
Strength :400mg
Packing : Pack of 28 Tablets
Uses of Myhep Tablet :
Treating chronic hepatitis C virus (HCV) infection in certain patients. Myhep Tablet must be used with ribavirin or in combination with peginterferon alfa and ribavirin.
Sofosbuvir is an HCV nucleotide analog polymerase inhibitor. It reduces the amount of HCV in the body by preventing the spread of the HCV within the body.